Description
1.5 Gallon Capacity | Filters up to 2.75 Gallons per Hour
The Travel Berkey is our most compact system and includes the same powerful filters as all other systems! This unit is able to filter up to 2.75 gallons of water a hour (thats 20 bottles of water) when filled frequently. For normal household use, this system is perfect for families and has the ability to provide enough water for up to 6 people.
The versatile Travel, can provide as little as 1.5 gallons a day, and up to 2.75 gallons an hour depending on how frequently it's filled. This versatility makes the Travel a great solution for everyday water consumption or for emergencies.
Every new Berkey Water Filter System purchased from Berkey Filters is backed by the Berkey Care Lifetime Warranty!
Product Reviews
Customer Reviews
02 Oct 2019
Anonymous
United States
Great product.
I have found it to be good quality and craftmenship. Really happy with the purchase.
Payment & Security
Payment Methods
Your payment information is processed securely. We do not store credit card details nor have access to your credit card information.
---
Security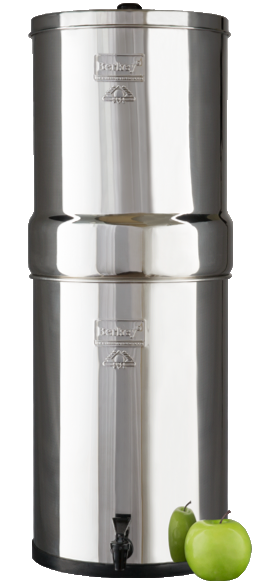 Specifications
Filtered Water Capacity | 1.5 Gallons
Product Dimensions | 7.5 x 7.5 x 19.0 inches
Product Dimensions (Nested) | 7.5 x 7.5 x 11.0 inches
Weight Empty | 6 lbs
Weight Full(Lower Chamber Full) | 18.51 lbs
Material | High polish 304 stainless steel
Spigot (Included) Material | BPA free, FDA appoved, high impact polypropylene
Price (USD) | $249 with 2 Black Berkey® Filters (standard configuration)
Purification Speed (Gallons Per Hour) | Up to 2.75 GPH with 2 Black Berkey® Filters (standard configuration)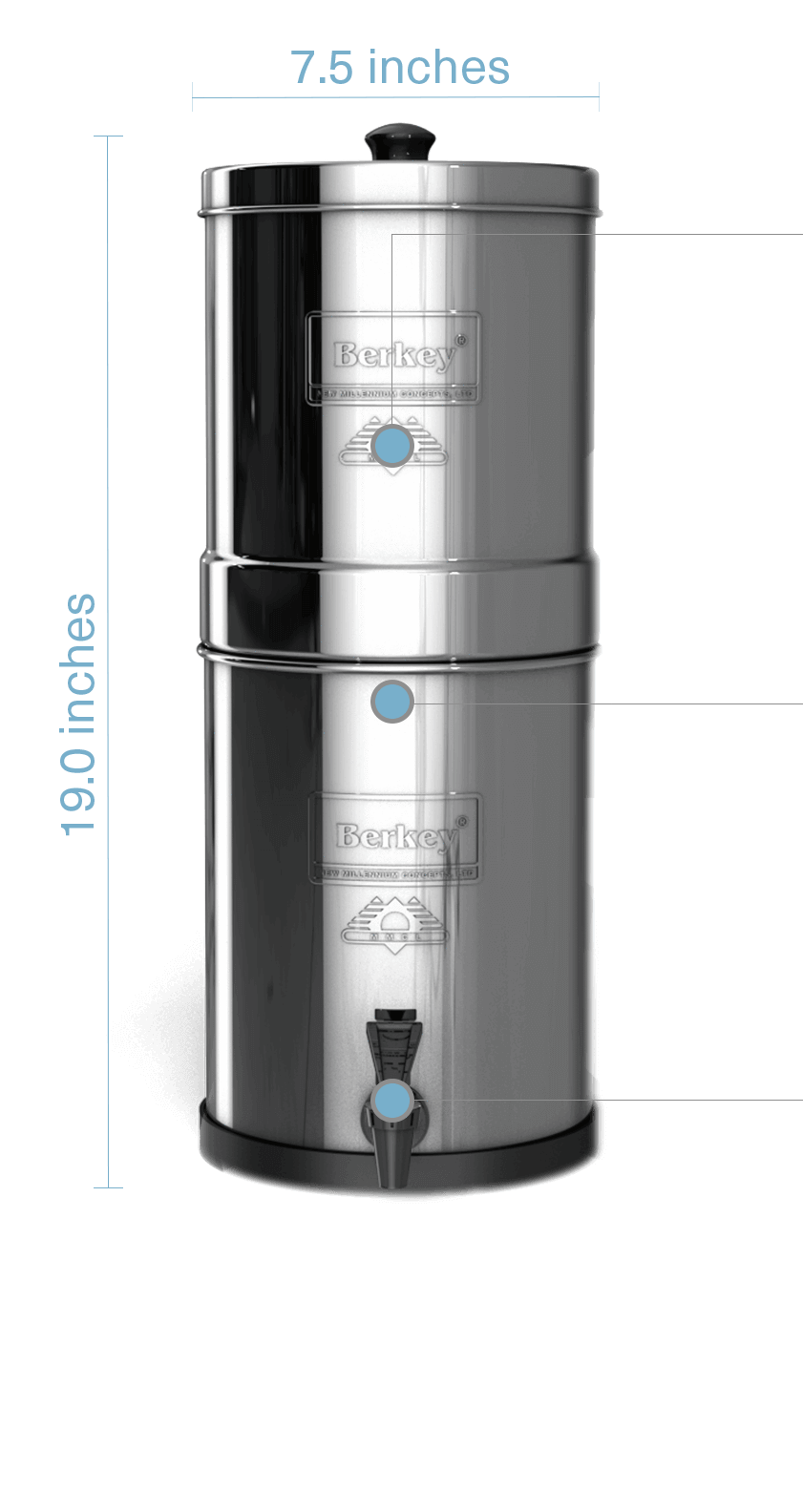 Travel Berkey® Water Filter System
Holding Capacity : 1.5 Gallons (5.7 L)
Material: 304 Stainless Steel
Finish: High Polish Stainless Steel
Because of its smaller size, the Travel Berkey is great for use in areas where countertop space is at a premium like motorhomes, motels or efficiency apartments. It easily fits into a suitcase or even an airline carry-on bag when traveling. Its ability to accept up to two filters makes it able to provide drinking water for small groups of people or smaller families of up to three people. The lid, as well as the upper and lower containers, are all made of a high grade, durable 304 stainless steel that is engineered to last a lifetime.


This water filter system comes with everything you need to start purifying your drinking water within minutes of assembly, including easy to set up instructions with no tools or special knowledge required.


*Not yet available in Iowa*