Description
What is there to say, really? It's got it all! It's The Medic: First Aid Kit

The molded comfort back panel provides semi-rigid, custom-fitting support, for maximum performance; adjustable padded shoulder straps, with sternum cinch and adjustable waist belt, ensuring this pack will stay with you and balance the load even in the most rigorous conditions. Side and top straps allow you to compress or expand depending on the load. Multiple inner pockets to organize and separate contents.

Made to rugged military standards with lots of MOLLE straps to add on whatever you need.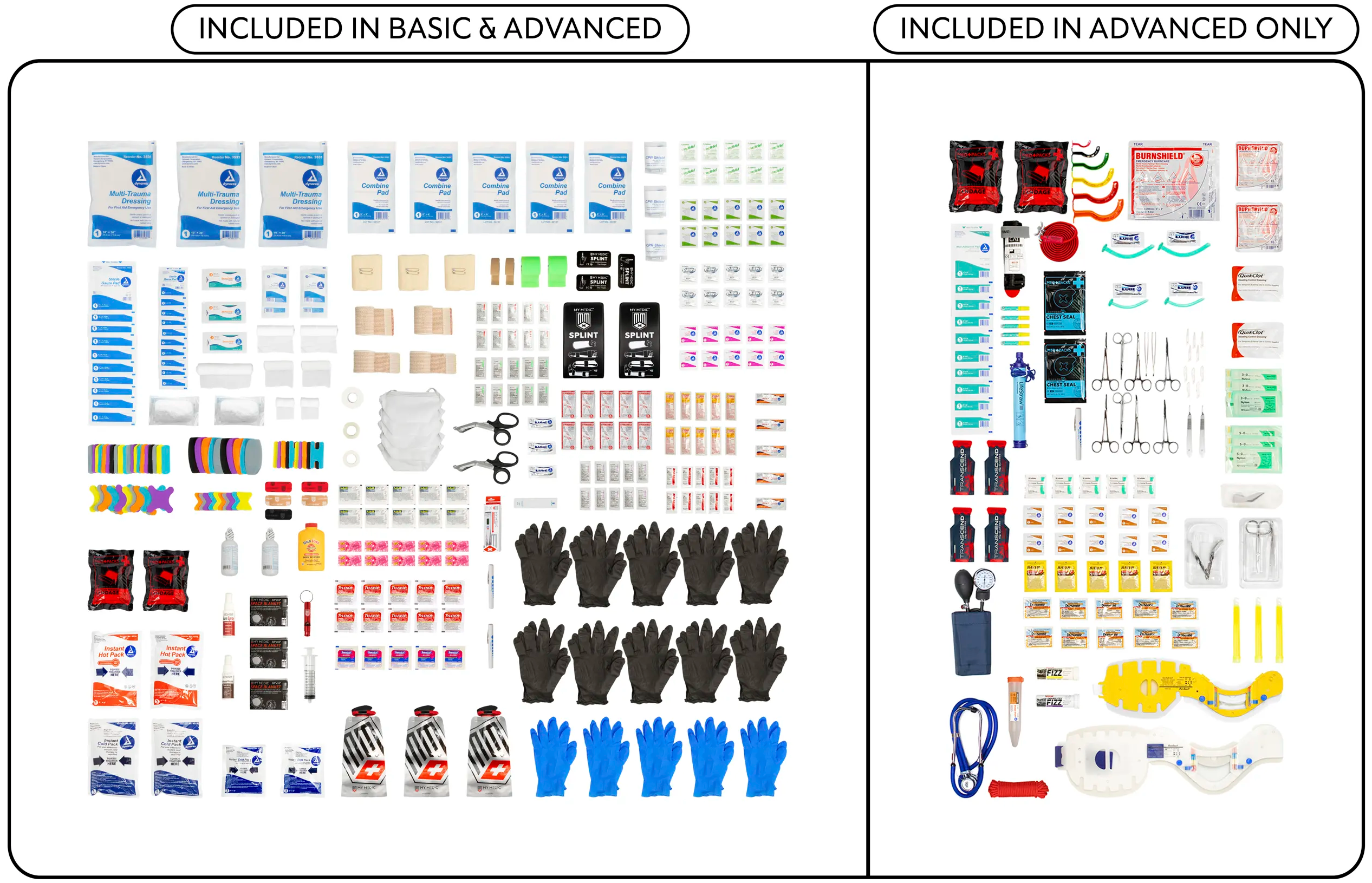 General Specs
Height: 21 inches
Width: 13 inches
Depth: 13 inches
Weight: 98165 - 10886 g
Skill Level (Basic, Advanced or Pro): Basic and Advanced
Type: Universal
Group Size: 8+
Environment: Dry, Dirty, Muddy, and Light Rain  
Case Features
Full Length Zipper

The extended zipper on this bag allows it to open completely and lay flat. This enables you to quickly view and access the Life-Saving Supplies inside.
Dual Compartments

This is no ordinary backpack. With two main compartments and integrated modular organization, it's almost too easy to find the products you're after. Just be sure to put them back where you got 'em from.
Padded and Ventilated Back Panel

The Medic is basically a small hospital. When you're carrying that around on your back, you want comfort. That's why we included a padded and ventilated back panel, as well as a sternum strap and a waist strap.

Molle Straps and Velcro

We included these high quality molle straps and velcro patches. Just in case you wanted to add more to this kit...but on the outside. So go ahead, attach whatever suits your fancy.
Oversized Zipper

The last thing you want in an emergency situation is a stuck zipper. We thought of that. So we put the largest, highest quality zipper we could find on this Kit. Go ahead, try to get it to snag.

Two Upper Handles

Double the hand holds? Why not. This feature gives you peace of mind when one-hand carrying this behemoth of a kit (you show-off). As an added feature, you can hang The Medic from these straps.

What's Included























































































Payment & Security
Payment Methods
Your payment information is processed securely. We do not store credit card details nor have access to your credit card information.
---
Security