Description
The MyFAK (My First Aid Kit) was designed with three goals: Adaptive - Functional - Indestructible. This First Aid Kit can be used anywhere from a day at the park with the kids, a multi-day backpacking adventure, or off-road in your Jeep. If you're out there, the MyFAK will be there for you.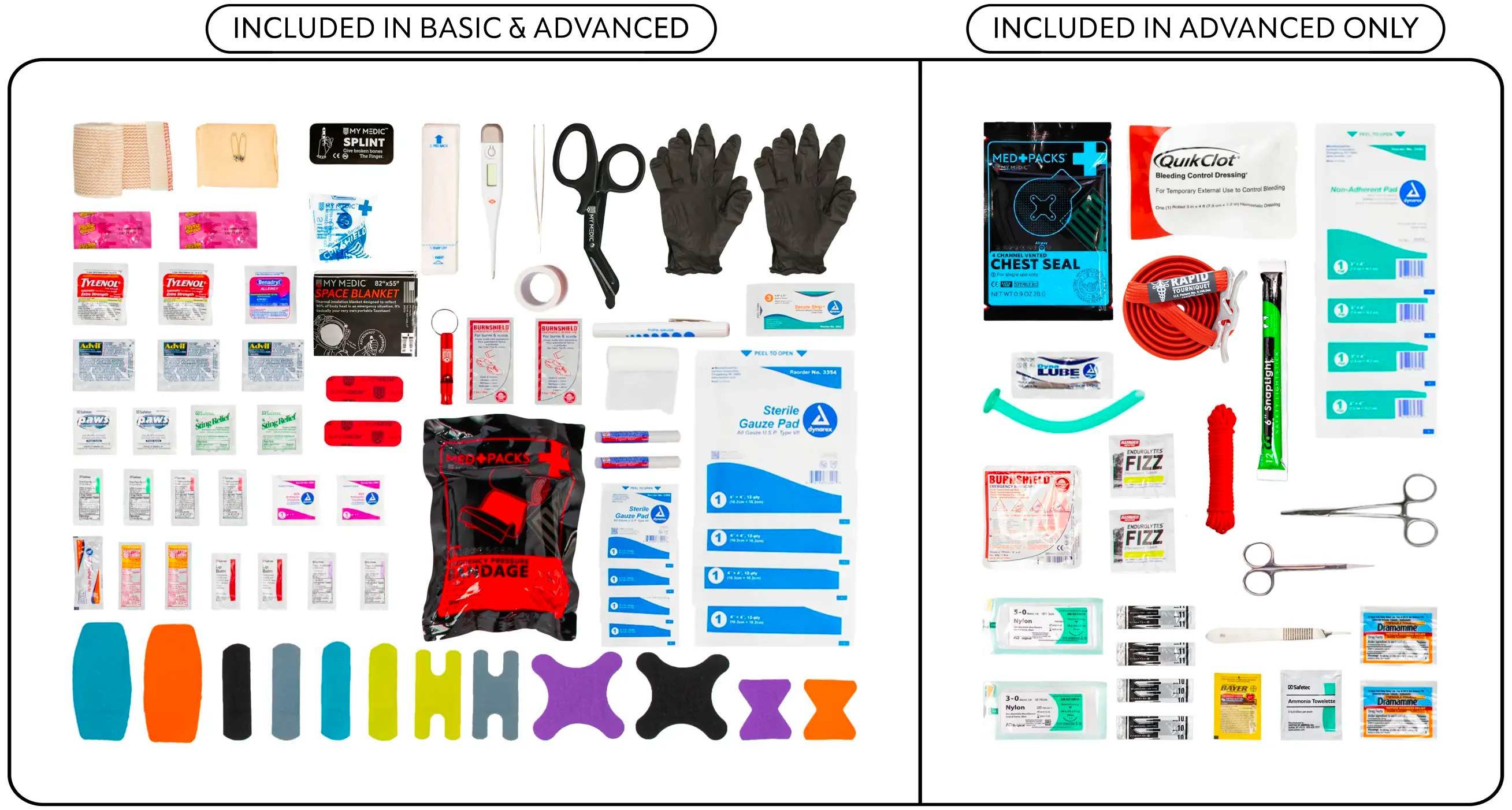 General Specs
Height: 7.5 inches
Width: 6.5 inches
Depth: 5 inches
Weight: 975 - 1275 g
Skill Level (Basic, Advanced or Pro): Basic and Advanced
Type: Universal
Group Size: 2+
Environment: Dry, Dirty, Muddy, and Light Rain  
Case Features
Tear-Away Back Panel

In an emergency situation, speed is the most important factor. This rip-away design enables you to grab your MyFAK without any unbuckling.

Velcro Backing

Because of it's Velcro backing, the MyFAK bag can be easily secured to any loose knit fabric. (e.g. the rear of a car seat, or your grandma's sweater)
Buttoned Straps

The two buttoned Molle straps on the back of the MyFAK bag are perfect for attaching this Kit to another bag... or whatever your heart desires.
Heavy Duty Handle

Made to last. This handle is high quality and heavy duty. Designed to be easy to grab and easily attachable.

Tri-Fold Design

We created this bag to give you quick access to your First Aid Supplies. This tri-fold design makes it easy to see what you need, when you need it.

Oversized Zipper

The last thing you want in an emergency situation is a stuck zipper. We thought of that. So we put the largest, highest quality zipper we could find on this Kit. Go ahead, try to get it to snag.

Molle Straps and Velcro

We included these high quality molle straps and velcro patches. Just in case you wanted to add more to this kit...but on the outside. So go ahead, attach whatever suits your fancy.
What's Included



















































Payment & Security
Payment Methods
Your payment information is processed securely. We do not store credit card details nor have access to your credit card information.
---
Security