Description
Bluetti's largest, high-capacity portable power station is equipped with over 2400Wh/1000W of lithium battery storage for long runtimes on all your necessary equipment. Versatile energy storage system backs up in your home and scales. Reliable access to power sources at any time.
Bluetti EB240 Portable Power Station is a clean alternative to a gasoline-powered inverter generator that produces 1000W of continuous power and a 1200W surge.
Specifications

The nitty gritty details about this generator.

The Ultimate Portable Power Station.

CHARGE TIMES

Refrigerator(800W)  2.6Hrs

Electric Drill (800W)  2.6Hrs

Laptop(60W)  34+ Recharges

Tablet  34+ Recharges

Smartphone  255+ Recharges

Led Lantern Light(10W)  204Hrs

Cpap(60W)  34+Hrs

Camera  400+ Recharges

Lcd Tv(100W)  24+Hrs

Micro Oven(700W)  2.9Hrs

Mini Projector(40W)  51+Hrs

Drone   27+ Recharges


PORTS

Input: Ac Charger/Pv Input Port: 7.9*0.9Mm Dc, 42V/160W, Ocv 16V~68V /Max.10A, Pv Max Input Power Max.500W./10A 
Outputs:
2*110V Ac Ports,,
1*12V9A Dc Port,
1* 45W Pd Usb-C Port,
4*5V3A Usb-A Ports.

BATTERY DETAILS

Lg Lithium Ion Battery Cell
Pack Capacity: 2400Wh/1000W
Lifecycles: 2500+ Cycles
Shelf-Life: Charge Every 3-6 Months
Management System: 'Mppt' Charge Controller, Low Battery Protection

GENERAL

Sku: Bluetti Eb240
Size & Net Weight:19.4*6.5*14.4Inch,48.5Lb.
Warranty: 24 Months
Operating Temperature::0-40°C/10%-90%
Safety By Design: Battery Management System (Bms) Enables Short Circuit Protection, Voltage Control, Temperature Control And More Advanced Safety Operations. Other Enhanced Safety Features Includes: Back Lit Lcd Panel Provides Accurate And Detailed Information On Both Input And Output Power 

Package Includes:

1*Portable Power Storage (Eb240),
1*160W Ac Wall Charger,
1*Pv Solar Charging Cable(Dc7909 To Mc4),
1*User Manual,
1*Certificate Of Qualificati

Payment & Security
Payment Methods
Your payment information is processed securely. We do not store credit card details nor have access to your credit card information.
---
Security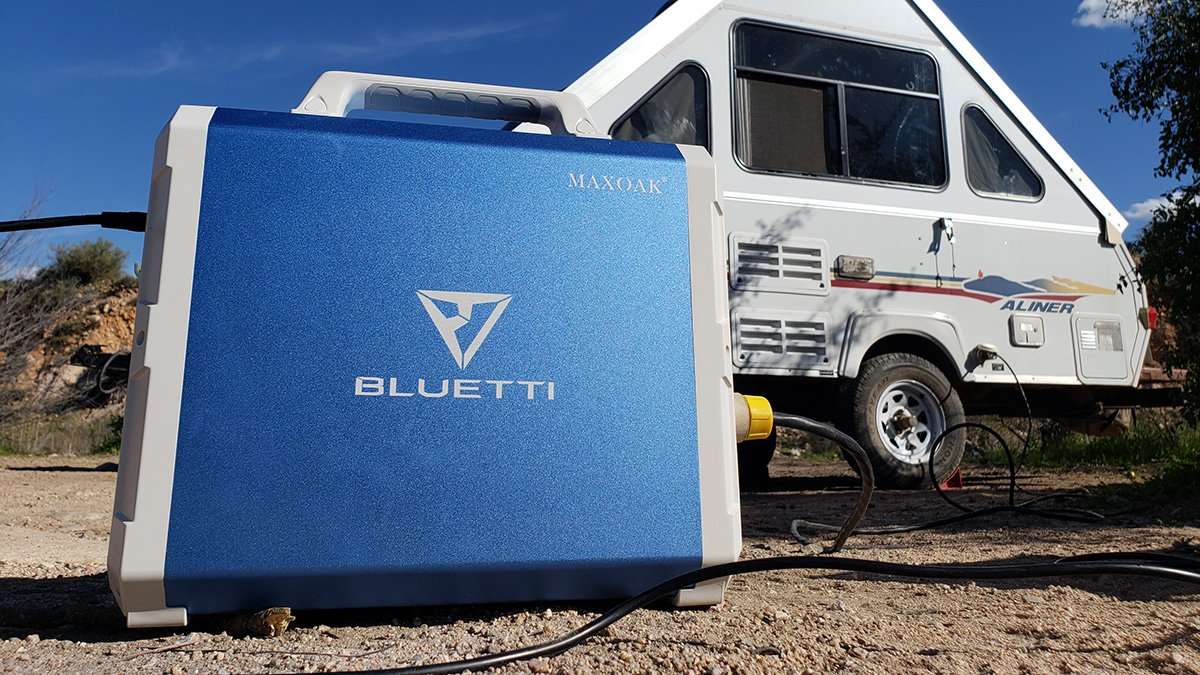 Big Bluetti Power station
Large enough to power your home circuits, yet portable enough to take with you on-the-go. The Bluetti EB240 is a necessity when it comes to serious energy storage.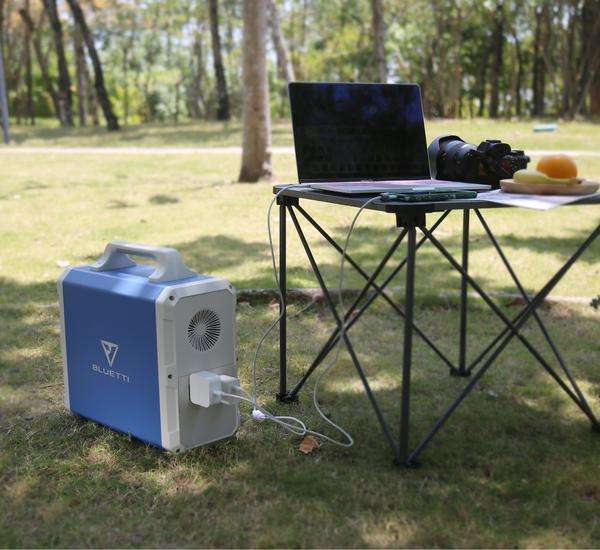 Bluetti EB240 Highlights
*Industry-leading Outputs Including AC and 45W USB-C
Features higher capacities for greater compatibility with more power-hungry devices, and the latest in USB-C Power Delivery capable of charging larger USB devices like laptops.

*MPPT Pre-Installed
Includes pre-installed solar charging optimization module that functions as a maximum power point tracker (MPPT), resulting in up to 40% faster charge times, especially from solar panels.

*Ultra-safe Lithium Battery
With quality LG lithium cells, known for stability, monitored by a state-of-the-art battery management system that prevents over-charge, over-current, and short circuiting.

Intelligent Cooling Controller
Built in Multi safety protection that include short circuit, overload and over-temperture and error code reporting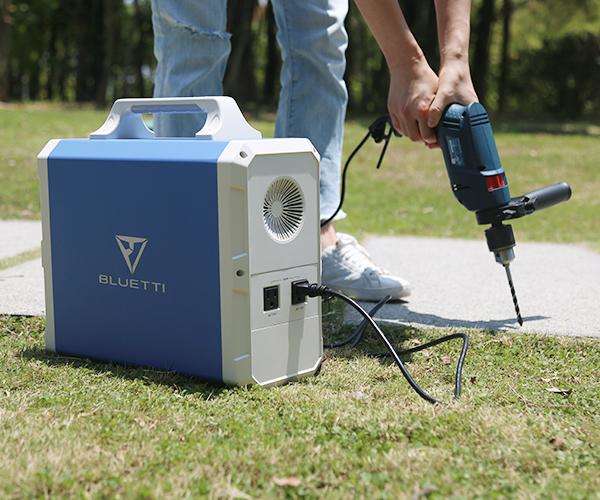 What Can Bluetti EB240 Power?
Bluetti EB240 is great for your larger sized or multiple device power needs.

Electric drill (800w) 2.6Hrs

Laptop(60w) 34+ Recharges

Smartphone 255+ Recharges

CPAP(60w) 34+Hrs

LCD TV(100w) 24+Hrs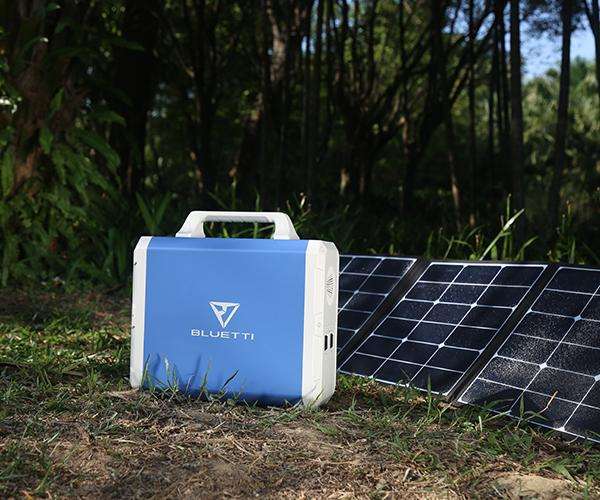 Charge Methods
AC Wall Outlet, Solar Panel (optional)
*Plug it into the wall. Fully recharges in 12 Hours (AC).

≈ 15 Hours (Using 200W Solar Panels simultaneously with full sun)

Recharge from the sun by connecting a compatible solar panel. Charge time is dependent on the size of the solar panel.

Car Charge: you need buy a Power Inverter(≥300W) yourself.
Frequently Asked Questions
A: Please note that the AC output ports can only charge/power devices that operate at less than 1000-Watts, besides, the whole wattage should be under 1000 watts as well . Once exceeding, the Bluetti EB240 will shut off automatically. Please refer to your device specification before purchase.
A: Working time = 2400Wh* 0.85 / operating wattage of your device
For reference, assuming power consumption of your device is 800W (might be a Electric drill), working time will be 2400Wh*0.85/800w=2.5hrs (rough calculated) .

Please note: actual power consumption varies from different usages, please consult bluetti for better purchase decision.


Solar panel spec requirement:
working voltage is >20V,Open circuit voltage(OCV) <68V, the Max. output current is 10A,Max. 500W.
Lifecycles
The eb240 could have a maximum of 500 watts worth of solar installed without the MPPT module. You would do this by running 400 watts worth of panels into the MC4 pole input, and 100 watts worth of panels into the 7.9*0.9mm input. This would give you 320-360 watts of input/hour in good sunlight conditions.