Description
The Lion Solar Power Kit lets you harness the power of the sun and convert it to power your devices, tools, lights, and many other power needs. Use the solar power kit for your shed, cabin, gazebo, campsite, or outdoor adventures. The kit comes with a 100 watt solar panel. But you can add up to 4 of these solar panels to make it a 400 watt solar power kit.
Safe to use
Easy to set up
Perfect for beginners 
Payment & Security
Payment Methods
Your payment information is processed securely. We do not store credit card details nor have access to your credit card information.
---
Security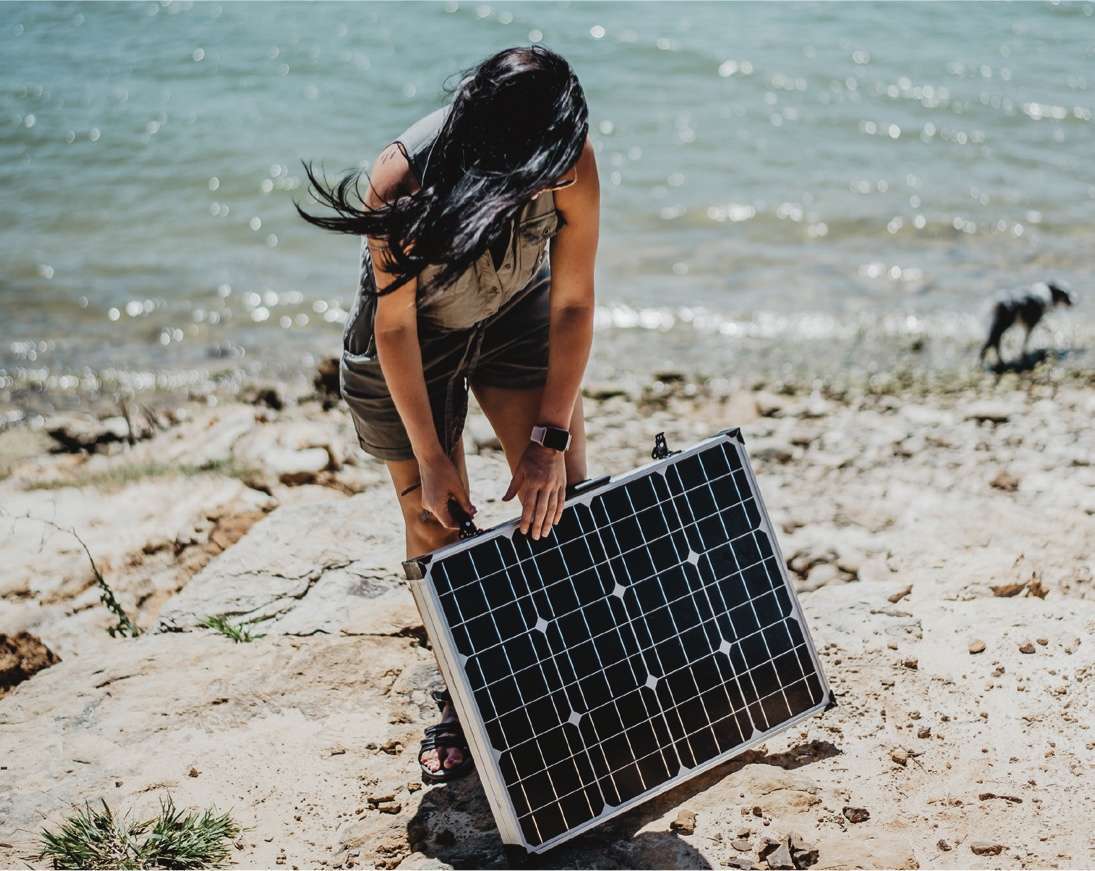 Power Anywhere
The SPK is the perfect kit to start your solar setup.
It comes with all the necessary cables and connections.

Just add a battery and you're ready to go.
It's a convenient way to get power to:
Sheds
Cabins
Campsites
Gazebos
Or anywhere else you need power!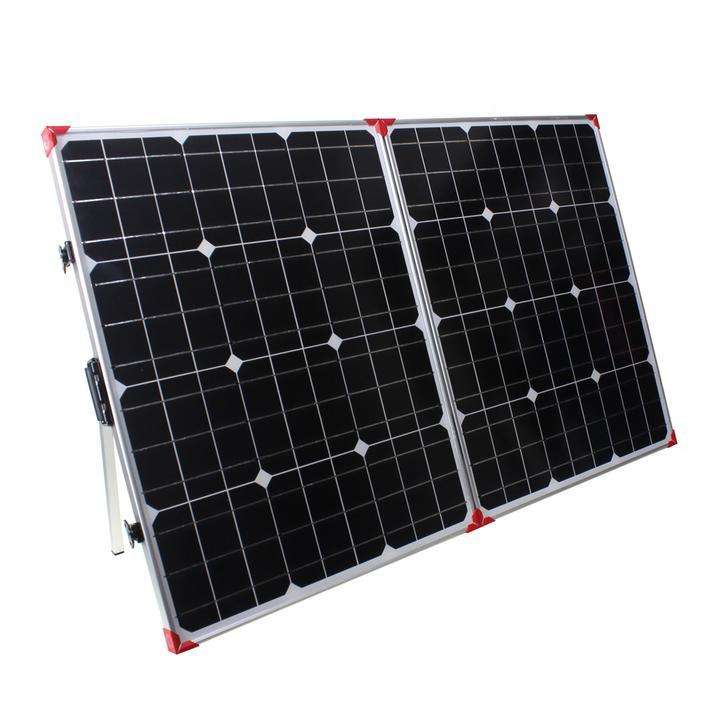 The Lion 100 is a durable, portable, and easy-to-connect 100W solar panel that lasts up to 20 years. It has a max power output of 18V @ 5.56A and you can link multiple panels together.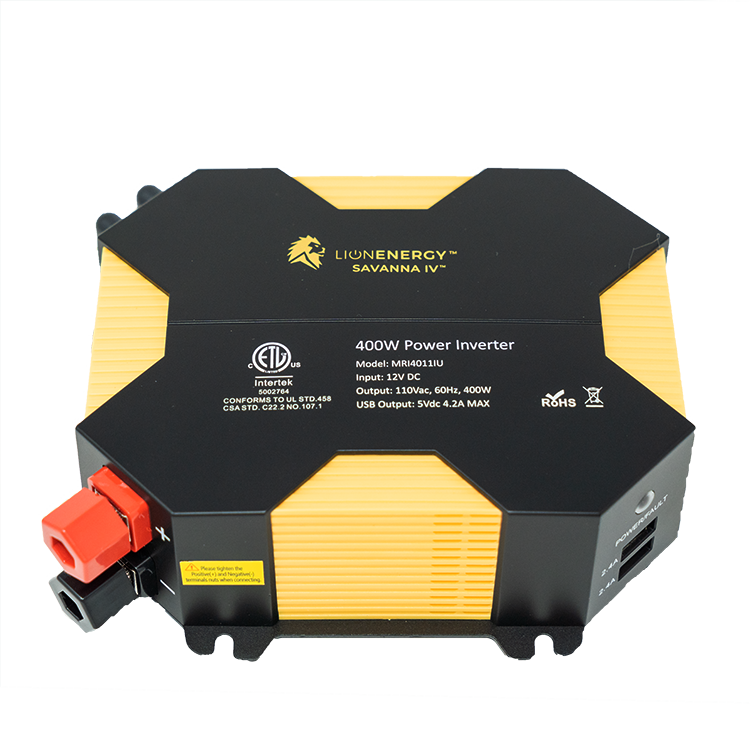 The Savanna IV is a 400W power inverter with 2 AC and 4 USB (2 @ 2.4A, 1 @ 1A and 1 @ 0-2.4A). Connects easily to an energy source or battery and has an output voltage of 110VAC+/-5% / 60Hz (US).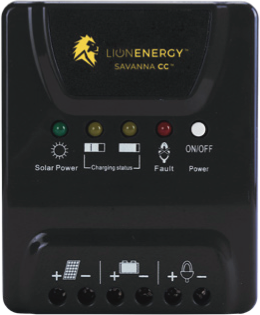 The Savanna CC is a solar charge controller to regulate the flow of power between the solar panel and the energy storage device or battery, like the Lion Safari UT TM. It has connection inputs from the solar panel and outputs to the battery with charging indicator lights.

25' Anderson™ Extension Cable
The 25' extension cables are easy to connect the solar panel to the Savanna Charge Controller so you can keep the panel in the sun and the Charge Controller in the shade next to your battery.


Lion 100 - 100W 12 V Foldable Solar Panel
‣ Heavy Duty Double Walled Aluminum Construction
‣ Easily Portable Folding Panels with an Easy-to-Carry Handle
‣ Anti-Corrosive Monocrystalline Solar Cells that Last up to 20 years
‣ Expandable - Link up to 4 Panels
‣ Max Power Output - 18V @ 5.56A
‣ Dimensions Folded - 26.5 x 20 x 2
‣ Dimensions Open - 26.5 x 40 x 1
‣ Weight - 20 Pounds
‣ Warranty - 1 Year
25' Andersion Extension Cable
‣ Position your Solar Panels for best exposure to the sun while keeping the rest of your equipment tucked away.
‣ Length - 25'
‣ Rated for - 12V, 30A
Savanna CC - Solar Panel Charge Controller
‣ Regulates the power flow between your solar panels and battery.
Savanna IV - 400 Watt Power Inverter
‣ Connects directly to your battery and provides power for your devices.
‣ Outputs - 2 AC and 4 USB (2 @ 2.4A, 1 @ 1A and 1 @ 0-2.4A)
‣ Output Voltage - 110VAC+/-5% / 60Hz (US)
What's Included
1 - Lion 100 Watt Solar Panel
1 - Savanna IV 400 Watt Power Inverter
1 - Savanna Charge Controller
1 - 25' Anderson Extension Cable
Specifications
Heavy Duty Double Walled Aluminum Construction
Easily Portable Folding Panels with an Easy-to-Carry Handle
Anti-Corrosive Monocrystalline Solar Cells that Last up to 20 years
Expandable - Link up to 4 Panels
Max Power Output - 18V @ 5.56A
Dimensions Folded - 26.5 x 20 x 2
Dimensions Open - 26.5 x 40 x 1
Weight - 20 Pounds
Warranty - 1 Year