Description
Harness the power of the sun and power your electronic devices. A rugged piece of tempered glass surrounded with a rust proof aluminum enclosure means this 100 Watt Panel is ready for everything you can throw at it. Take it tailgating, to the construction site or wherever you need power.
100W 12 V Foldable Solar Panel.
6 foot Anderson cord connections.
Ultra high efficiency. 18%.
Anti-corrosive double-walled structural housing.
Photovoltaic cells cased in air-tight tempered glass.
20-year life expectancy.
Product Reviews
Customer Reviews
Saved our Bacon....Literally!
Survived Hurricane Sally here in Alabama. Power was out for days. Without solar generator system, all our food would have spoiled. Our neighbors had gas generators.....expensive, noisy and dangerous. No one even knew our solar unit was here in the back yard. Great customer support. Will be purchasing other survival items!
Payment & Security
Payment Methods
Your payment information is processed securely. We do not store credit card details nor have access to your credit card information.
---
Security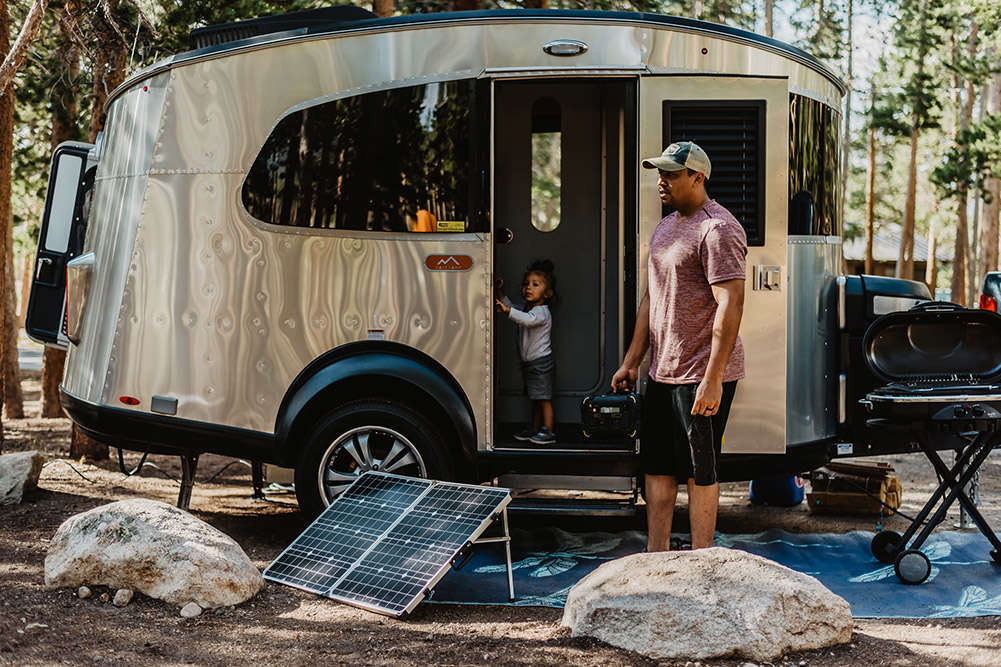 100 Watts of power,
as easy as opening a book.
Double walled structural aluminum housing.
Air tight tempered glass.
12 Volt output. Foldable design.
Built to last, charge after charge.
A rugged piece of tempered glass surrounded with a rust proof aluminum enclosure
Details
Outputs
Average output - 71W throughout the day.
Maximum output - 100W
Average output current - 6A @ 12V DC
Specs
Rated Power: 100 Watts
Cell Type: Monocrystalline
Max Volt Output: 18 Volts
Expandable: Link up to 4
Dimensions Folded: 26.5 x 20 x 2
Dimensions Open: 26.5 x 40 x 1
Weight: 20 Pounds
Warranty: 1 Year