Description
4.5 Gallon Capacity
A great model for large families with large water consumption. Recommended for 6-10 people and includes 2 Black Berkey® Filters but can support up to 6 for quicker filtering. The Berkey Care Lifetime warranty is included with every new unit purchase, an exclusive benefit for Berkey Filters customers!
Payment & Security
Payment Methods
Your payment information is processed securely. We do not store credit card details nor have access to your credit card information.
---
Security
Specifications
Filtered Water Capacity
| 4.5 Gallons (17 L)
Product Dimensions
| 10 x 10 x 27 inches
Product Dimensions (Nested)
| 10 x 10 x 19 inches
Weight Empty
| 10 lbs
Weight Full(Lower Chamber Full)
| 47.5 lbs
Material
| High polish 304 stainless steel
Spigot (Included) Material
| BPA free, FDA approved, high impact polypropylene
Purification Speed (Gallons Per Hour)
| Up to 5.5 GPH with 2 Black Berkey® Filters (standard configuration)Up to 11 GPH with 4 Black Berkey® FiltersUp to 16.5 GPH with 4 Black Berkey® Filters
Availability
| Not yet available in Iowa or California (
Learn Why
)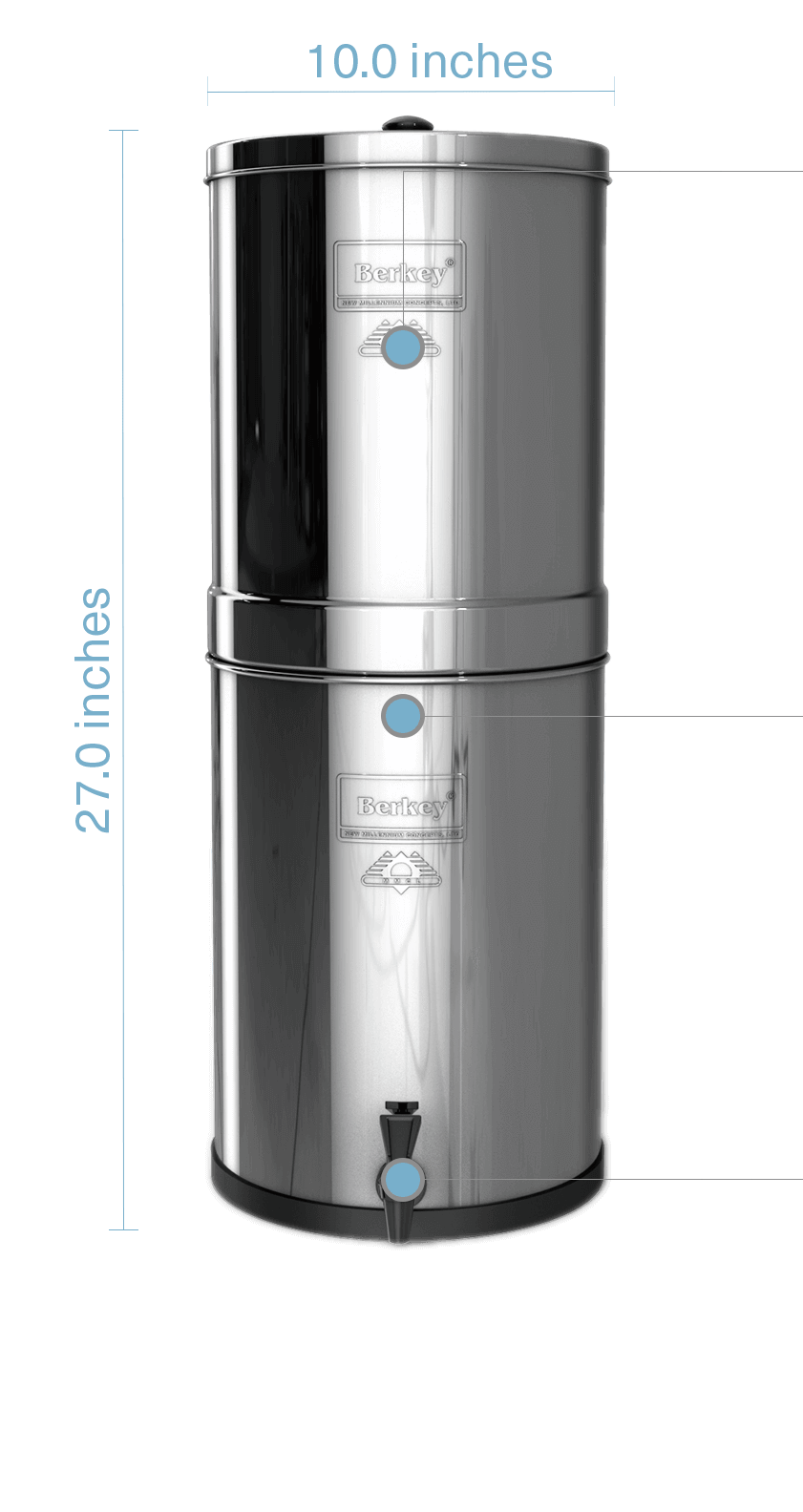 Imperial Water Filter System
Holding Capacity : 4.5 Gallons (17 L)
Material: 304 Stainless Steel
Finish: High Polish Stainless Steel

Berkey originally focused on water filters designed to meet the needs of families and small groups. Through multiple years of consumer feedback, we recognized the growing need for a water filter that could service larger groups like churches, schools, and orphanages. These unique customers had been purchasing multiple smaller units in order to meet the production output that was necessary to supply water to larger numbers of people.


When developing the Imperial Berkey the first concern was that the upper chamber was not tall enough to produce the water pressure needed to push large amounts of water through the Black Berkey purification elements. Each foot of height produces approximately 0.5 pounds of water pressure that is used to push the water down through the filters.


The second concern was the number of filters the unit could hold. Each filter needs to have a certain amount of space in order to filter properly. The diameter of the smaller units was not large enough to accommodate more than four filters, so we increased the diameter of the lower storage container to accommodate up to six filter elements. The addition of the extra purification elements increased the water flow capacity to sixteen gallons per hour when the Imperial was full.


*Not yet available in Iowa or California*