Description
Keep your equipment charged and ready with the Grape Solar 200-Watt Off-Grid Solar Panel Kit. This durable panel is ideal for a variety of DC applications, including RVs, 12-Volt battery charging, boats, small pumps and LED lights. Constructed with high-efficiency crystalline solar cells, this easy-to-install kit lasts for years and is virtually maintenance free. The anodized aluminum frame and sealed junction box make the panel weatherproof for outdoor use. Add up to 3 additional panels for more power. The system provides 600-Watt Hours or 50 Amp Hours of charge per average day. Compatible with deep cycle batteries including lithium-ion. The kit Includes: 2 Grape Solar GS-Star-100W 100-Watt polycrystalline solar panels, a 40 Amp Grape Solar Comet charge controller, cables and manual.
Features
Perfect for RVs, boats,12-Volt battery charging and small pumps
Anodized frame and sealed junction box make a weatherproof panel
Provides 600-watt hours or 50 amp hours of charge per average day
Ideal for running small pumps and lights or charging your portable electronic devices
Polycrystalline panels with anodized aluminum frames and tempered glass for outdoor use and superior performance
Panel bypass diodes reduce shade losses in series strings
40 Amp Grape Solar comet PWM charge controller allows you to add up to 3 additional panels (use part # GS-100-EXP)
Kit comes with all cables and connectors for quick and easy set-up
Battery not included, a minimum of one 50 Ah 12-Volt deep cycle battery is necessary to use this kit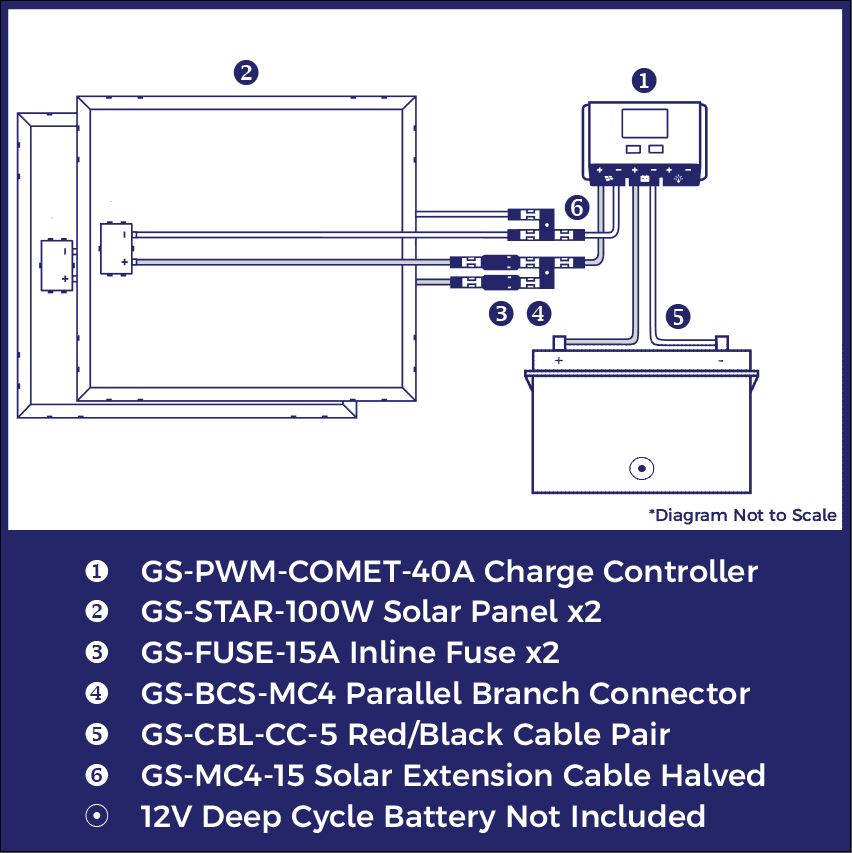 Payment & Security
Payment Methods
Your payment information is processed securely. We do not store credit card details nor have access to your credit card information.
---
Security