Description
GoSun's biggest bundle ever.
The Solar Kitchen lets you cook, cool, and charge - anytime, anywhere. Stay cool with the ice-free Chill and cook with the fuel-free Fusion. Power both and charge your devices with the SolarTable 60.
Specifications

The nitty gritty details about this product.

Here's the specs.

CHILL

Capacity: 40 L
Insulation: R-10, Closed cell polyurethane foam
Compressor: DC Brushless (runs on 12 or 24 Volt), draws 35-45 W
Power Output: 230W (full sun)
Works under clouds: Yes
Works at night: Yes

FUSION

Capacity: 145 oz
Meals per load: 4-6
Max temp: 550 ºF
Power Output: 200W-225W (full sun)
Works under clouds: Yes
Works at night: Yes
Power source: Sun, Electric

SOLARTABLE 60

Material: Aluminum, Stainless Steel, Tempered Glass
Capacity: 75 lbs
Power Output: 60w
Ports: 5.5 x 2.1mm Coaxial Connector

POWERBANK+

Material: ABS Shell
Power Output: 144 wh
Power Input: 20V 2A ma (AC Adapter), Max Voc 28Vdc (Solar PV)
Ports: USB (3x), Cigarette Lighter (1x)
Power source: Electric, Light, White LED Lantern, Red LED Lantern
What's Included

What's all included with your purchase.

What a deal!

Chill

Solar Cooler
AC Adapter
12V Power Cord
Bungee Cords (2x)
User Manual
SolarTable 60
SolarTable 60
User Manual

Fusion

Hybrid Solar/Electric Oven
Powered Cooking Tray
PowerCord
User Manual

Thermo


Thermometer
AAA Batteries (2x)
Magnetic Stand
Probe Cable
Cable Wrap
Free App Download
User Manual

PowerBank Mini

Solar Phone Charger
USB Cable
Carabiner

PowerBank+ (2)SolarPanel 10Sun King | ProSolarLightTongsOven Mitts (2)Fusion | BagFusion | AC Adapter
Payment & Security
Payment Methods
Your payment information is processed securely. We do not store credit card details nor have access to your credit card information.
---
Security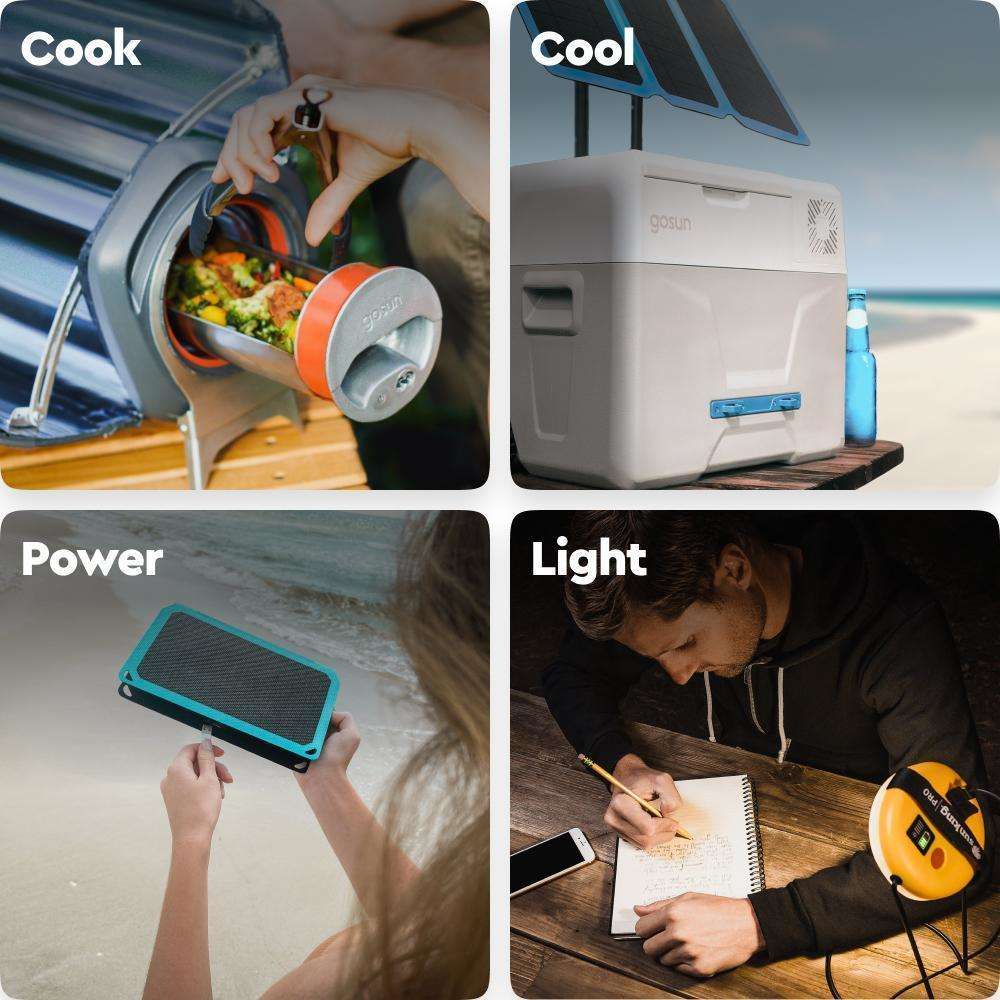 Living off-grid has never been easier.
Cook, cool, charge – the complete package. We designed the Solar Kitchen so that each product integrates seamlessly with one another.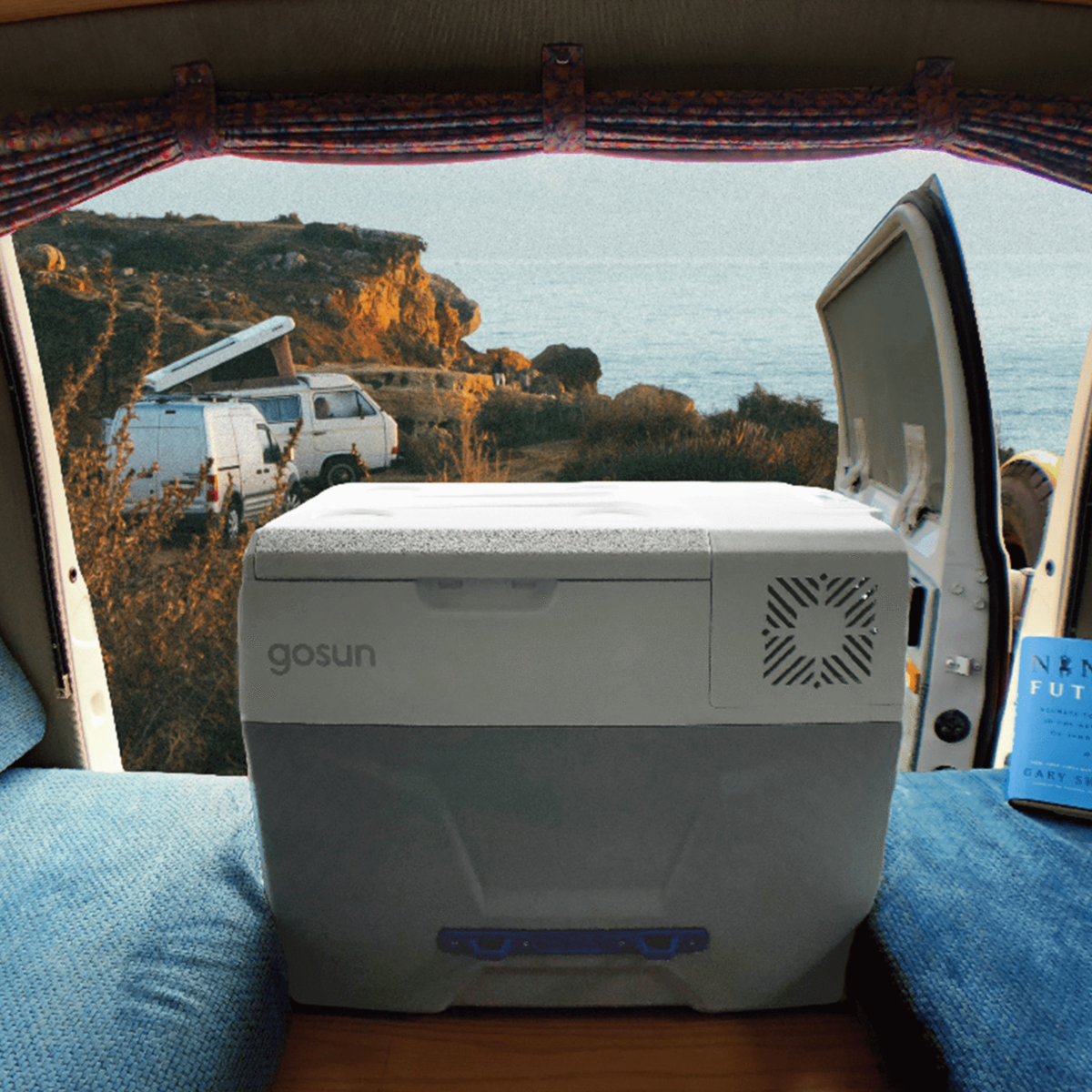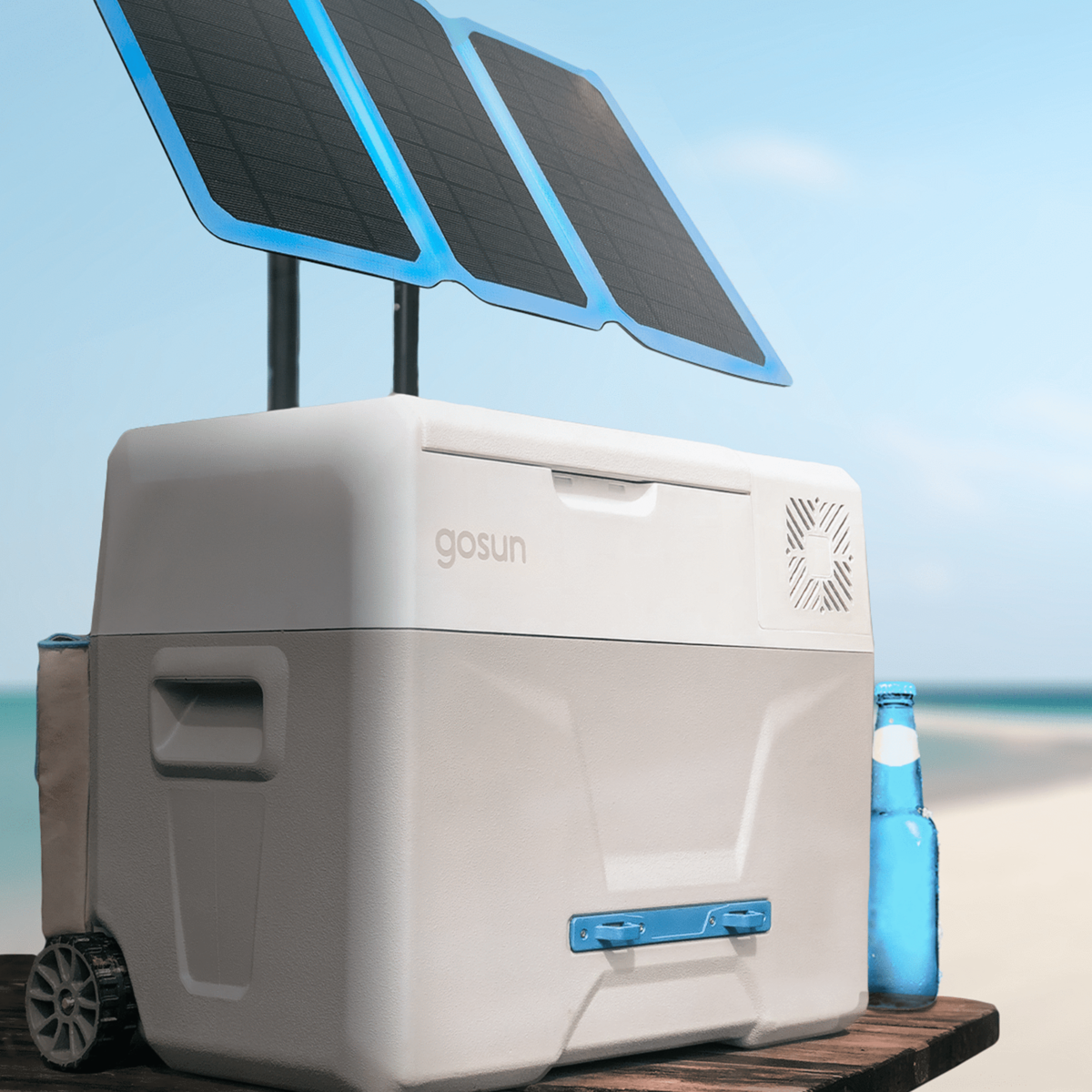 Same size, more space.
Without ice you can use 100% of the cooler's volume. That's 2x the room for food & drinks (when compared with coolers of equal dimensions).

Touch-screen gives you control from -4°F to 68°F.

Use the sun to make ice, not melt it.

PowerBank+ can charge your phone, tablet, and laptop.

PowerBank+ will keep Chill cool for 14 hours on an 80°F day.
No ice, no mess.
$400 over-built coolers may fend off grizzly bears, but they still rely on ice that's heavy, takes up space and leaves everything soggy. We haven't found a cooler yet that drives to the store to buy more ice.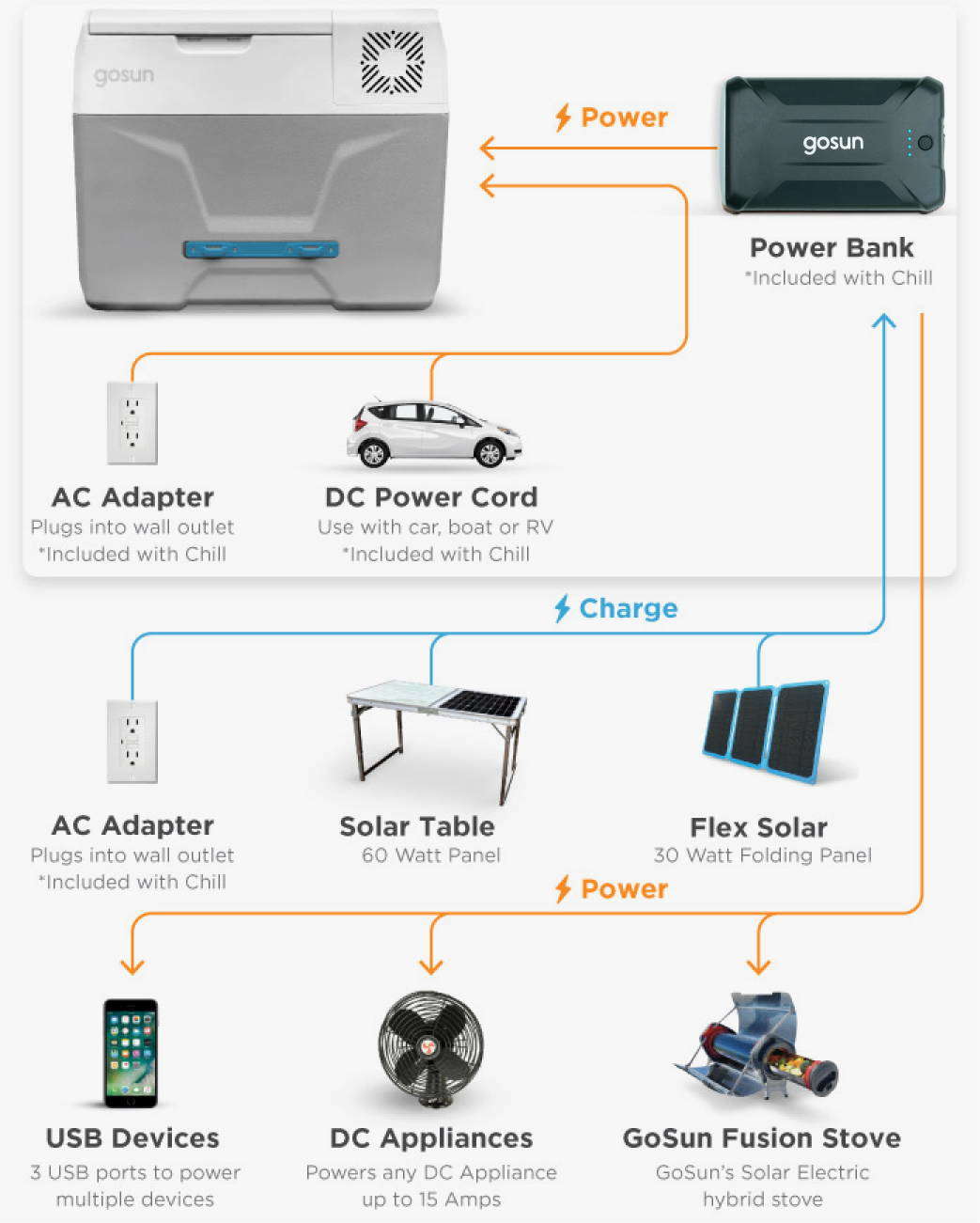 Multi-modal power, means you've got options.
GoSun Chill can be powered by multiple power sources, including: Powerbank, AC Adapter, 12 Volt Cord (car port charger), Solar Table, or Flexible Solar Panels. This way, you can access the most convenient power sources when you need it. To charge the Powerbank, plug in the included AC Adapter into any wall socket (100-250VAC) or use one of our two solar charging options - the Solar Table or Flexible Solar Panel.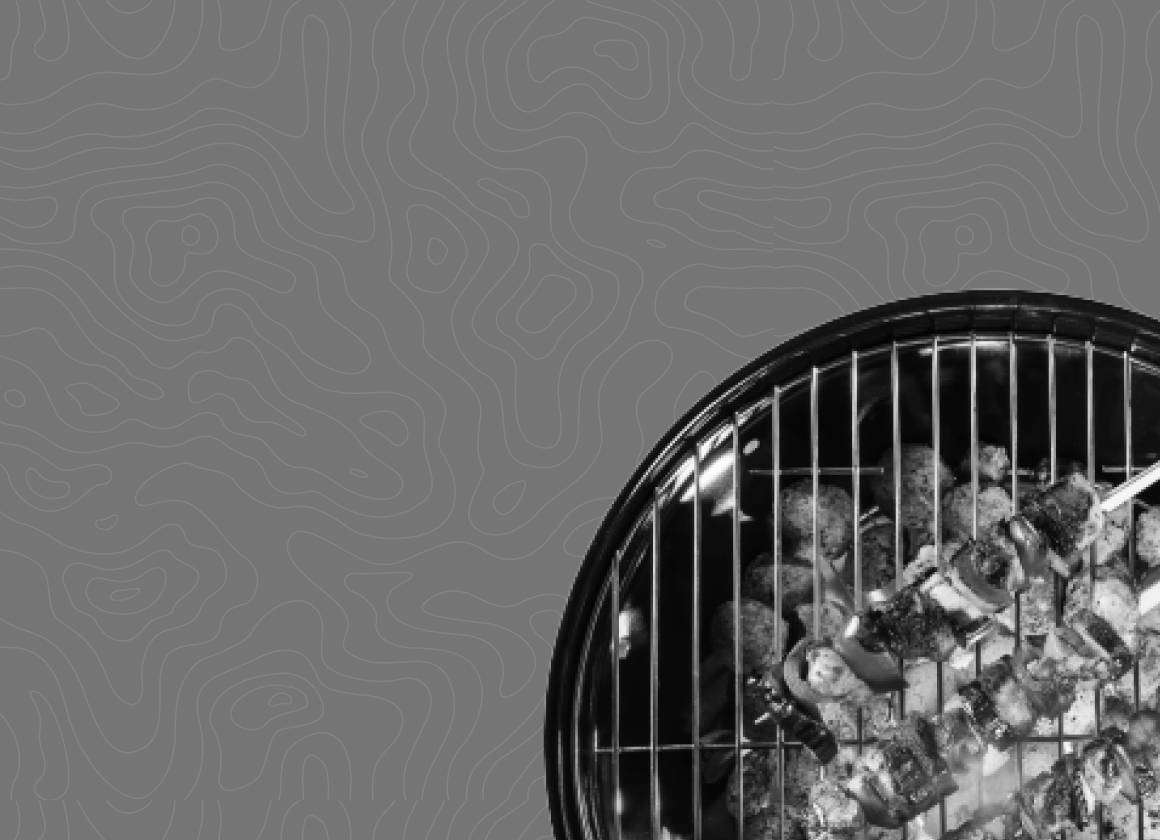 5x more efficient.
Run side by side, with the same meal inside, the GoSun Fusion is off the charts when compared to the status quo.

With a 101 oz cooking tray you can cook a meal for five within an hour.

Cook with the sun during the day and plug it in at night

Rain, clouds, & snow. If you can see a shadow, it will cook.

Deploys in seconds and collapses into a durable package.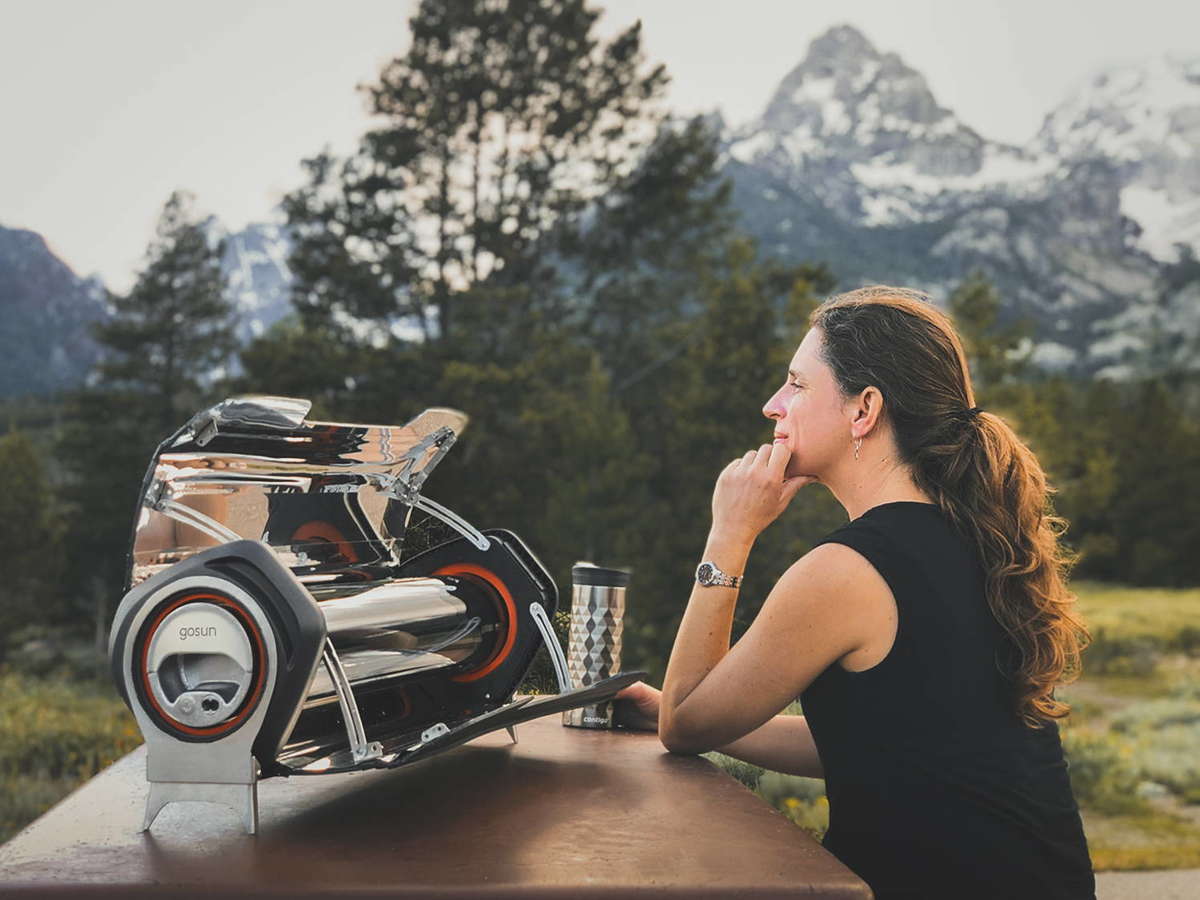 All-weather performance.
Cooking under full sun is always nice with a solar cooker, but GoSun operates under a wide range of conditions; cloudy, freezing, muggy, snowing, windy, dusty, you name it, nothing is off limits. Now, with the electric heater, the cooking never ends.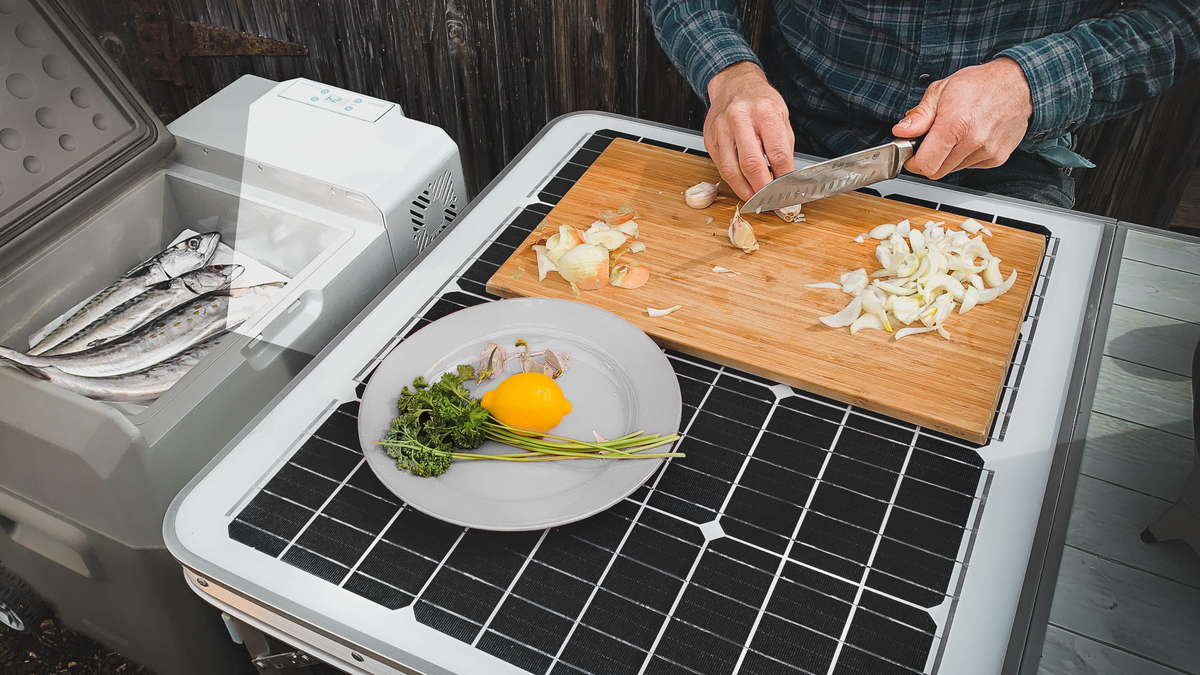 Our most powerful charger yet.
Designed to recharge your PowerBank+ and provide and shade for the Chill. The SolarTable 60's lightweight aluminum frame folds into a portable package that is easy to carry and store.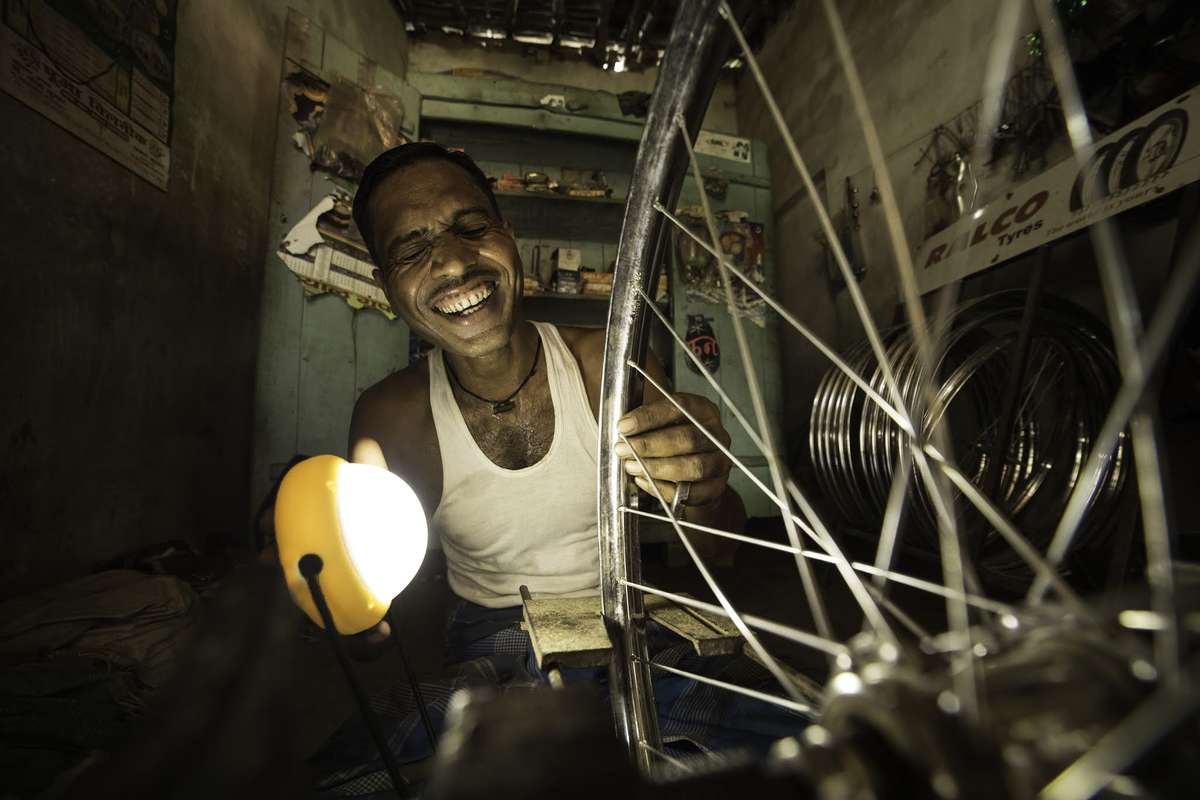 Get things done, at home or at work, day and night, with our most powerful lantern yet.
3 light mode: Low Power, Normal, Turbo
Battery lasts 45 hours
Polycarbonate & ABS IP64 rated, water resistant enclosure
Digital LED meter displays battery power remaining
Digital LED meter displays charging effectiveness on a scale of 1 to 5, to help optimize solar panel placement
Battery management technology automatically switches three lamps to low-power mode when battery is running low, yielding additional hours of light