Description
DELTA 1300 Power Station packs a massive 1260Wh of energy storage capacity. Stay powered for hours and hours with a wide range of devices and tools, anytime and anywhere. With an output of 1800W (3300W surge), DELTA 1300 Power Station meets any standard of any wall outlets so you'll always feel right at home. Charge your laptop,TV, microwave, coffee maker and fridge at once.
The World's Strongest Battery Generator
Up to 1260Wh capacity. 1800 AC output. No gasoline.
Lightweight, and more clean power. 
Payment & Security
Payment Methods
Your payment information is processed securely. We do not store credit card details nor have access to your credit card information.
---
Security
The New Standard For Battery Generators
Bigger Capacity. Ultra-fast Recharging. Multiple Outputs.
DELTA requires no gas and emits no pollution. It features a capacity of 1260Wh and an output of 1800. DELTA is powerful and safe choice as your backup power generator or outdoor recreational companion. With X-STREAM, the ultra-fast recharging technology, you can charge from 0-80% in one hour. In addition, the supporting solar panel input allows you to generate power anywhere.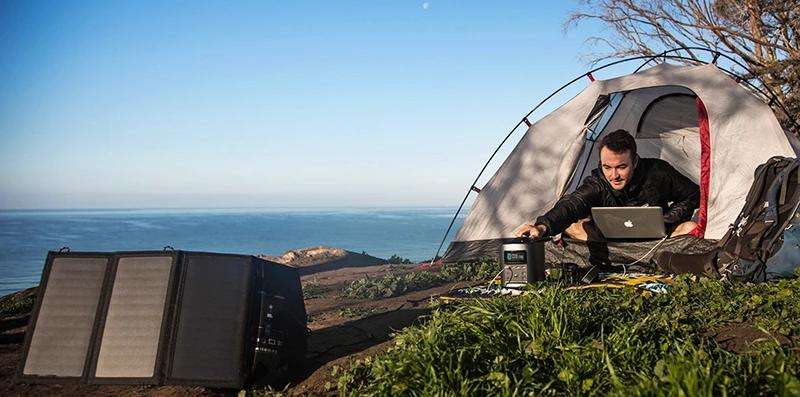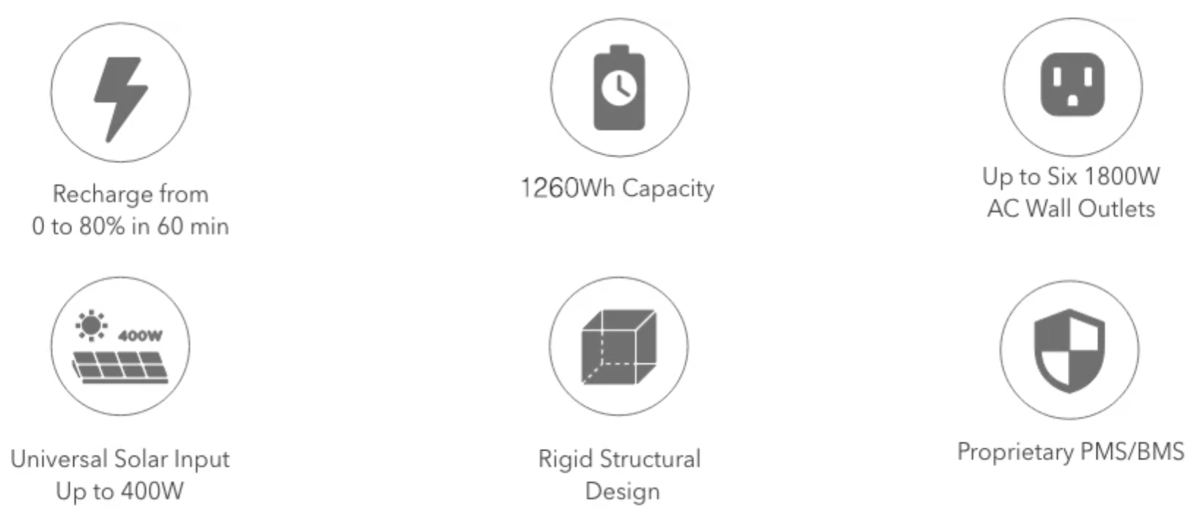 What Can The DELTA 1300 Power?
DELTA can be perfectly use as emergency power when you need it. With a large output, it is designed to keep your most important things running during a power outage.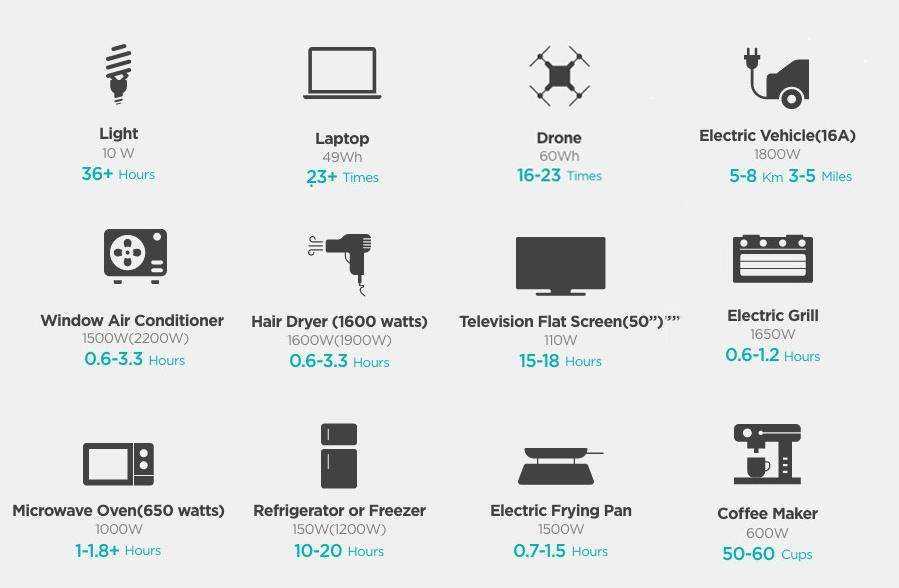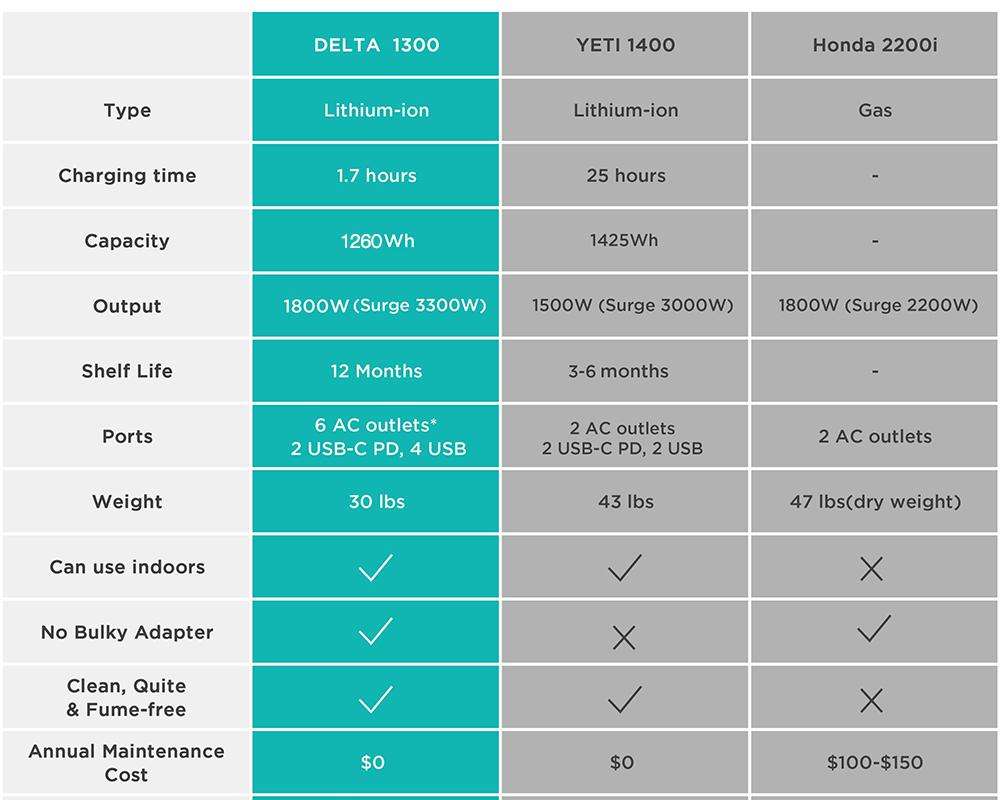 Eco-friendly. Portable. Powerful.
DELTA, the new-standard for battery generators features capacity of 1260Wh. Compact size of 264mm and weight of 30lbs, DELTA is one of the most lightweight and compact portable power generators in its category. Compatible with most of your daily appliances, it is the perfect power companion for any situation.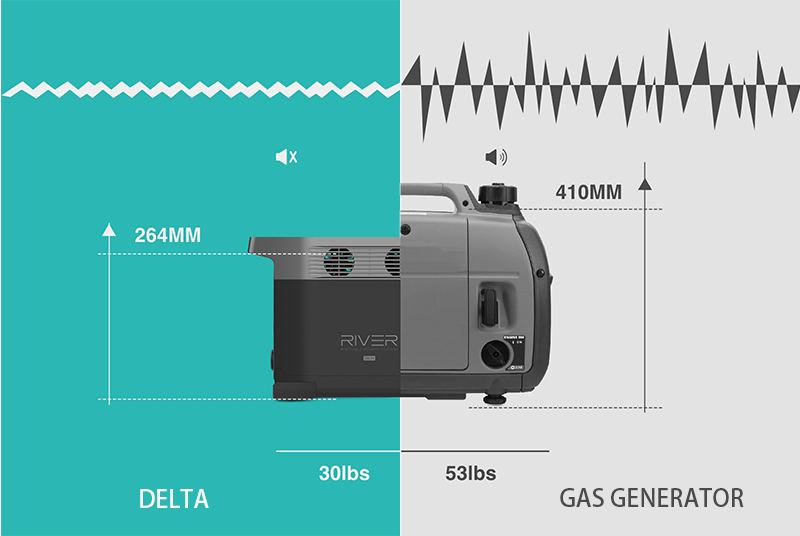 Larger Capacity for Multiple Devices
With 1260Wh of energy storage, DELTA gives you power assurance in any emergency. Run fridges, lights, medical devices, and other essentials with a flip of a switch. With DELTA's multiple outlets, power up to 13 devices simultaneously.

Durable and Efficient.
Created by Cutting-Edge Technology.
With the EcoFlow Patented Protective Intelligent System, DELTA is designed to extend performance and life-cycle. More durable than leading competitors, the aerospace-grade aluminum and high-strength steel provides DELTA with a longer shelf-life.
Powered By Solar
Harness the power of the sun by recharging DELTA with solar. Portable enough to power everything you need to live off the grid or back up your home in an emergency.
Under perfect sunlight and 400W of solar panel input, DELTA can be fully recharged within four hours.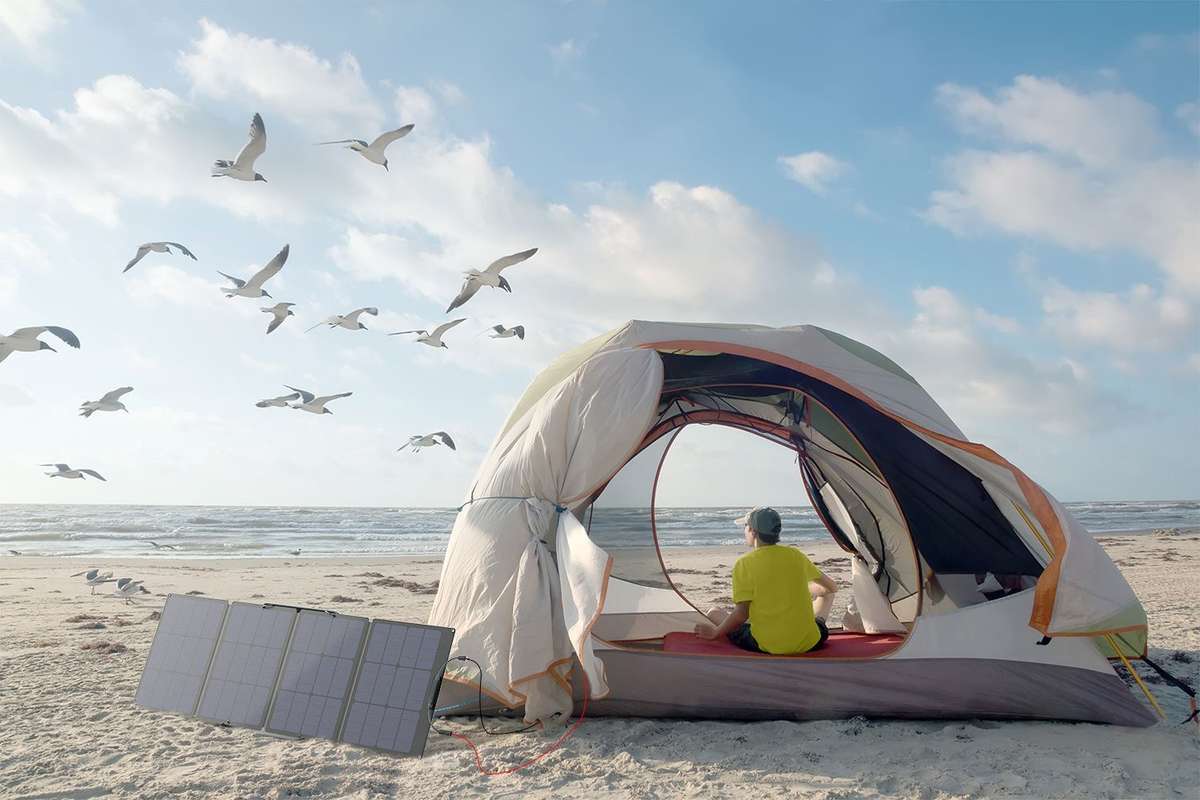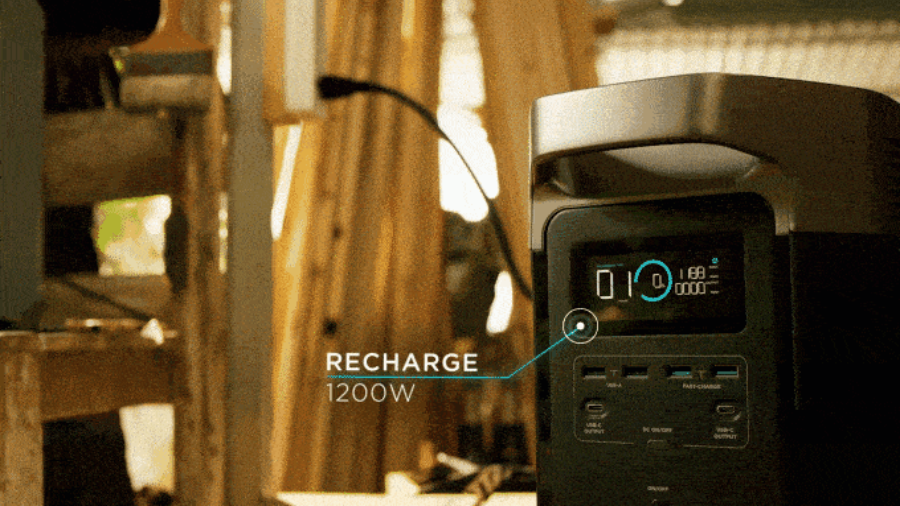 Ultra-Fast Recharging
X-STREAM TECHNOLOGY
With ultra-fast recharging technology, DELTA provides the fastest recharge rate on the market.
Working 10x times faster than competing battery-powered generators.
Recharging DELTA from 0-80% within 1 hour
Charging through a simple cable and no brick converter needed anymore.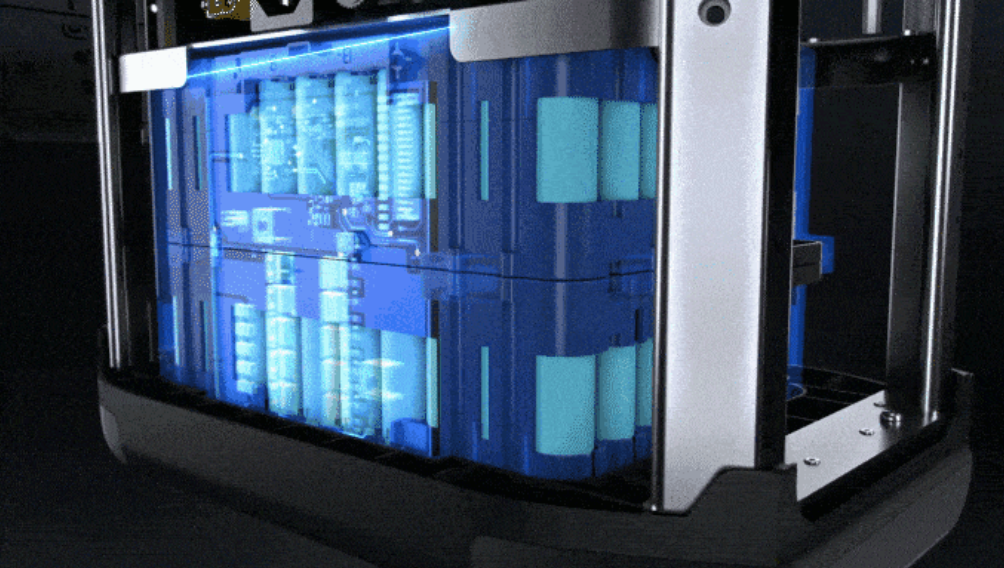 Battery Management System
Inside DELTA, there are 140 lithium-ion battery cells. The Battery Management System regulates all these cells and the charging state of them. Taking care of the batteries health individually using AI algorithms and monitoring the temperature and activates the fan if needed to makes DELTA safer.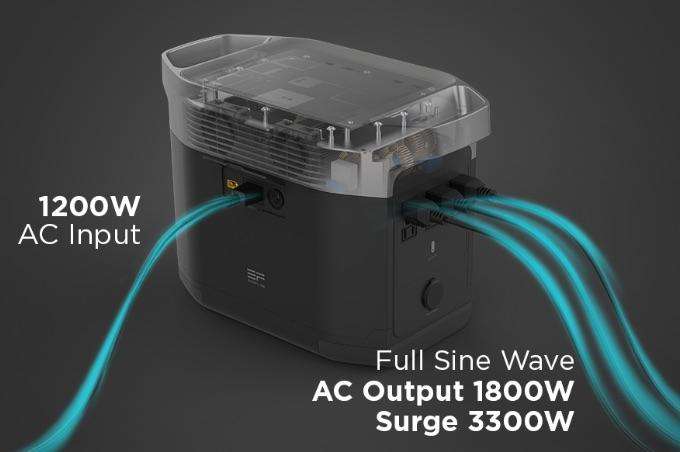 With over 20 protective measures from both software and hardware, DELTA always prioritizing safety. Extending the power surge up to 3300W and prevents overload.The Power Management System converts DC to AC, and AC to DC in the most efficient way, allowing you to charge 0-80% in just two hours.
Frequently Asked Questions
How long does it take for EF DELTA to get fully charged by EF 110W Solar Panel?
EFDELTA supports solar input ranges from 10V to 65V with a maximum allowed current of 10A and maximum input of 400W. At perfect sunlight it takes:
a. 1x 110W solar panel: 15h-30h
b. 2x 110W solar panel (in series): 7.5h-15h
c. 3x 110W solar panel (in series): 5h-10h
d. 4x 110W solar panel (in parallel): <4h

Can EF DELTA Charge EV?
EF DELTA support charging most of the models from Tesla (Model X, the new version of Model S, Model 3) except the old version of Model S.
*Please note: In order to meet the UL2743 standard, DELTA's sockets are not grounded. However, after conducted hundreds of tests on different electronic vehicles, the results is that only Tesla needs a grounded cable, others with grounded chargers can all be charged by EF DELTA properly.

Can I jumpstart a car using EF DELTA?
You cannot use DELTA to jumpstart your car, because the current needed for jumpstarting a car is higher than 20An while EF DELTA's car port support a maximum current of 8An.